Two weeks after Donald's death, the KaMo Sports Jumpers returned to Northern airport. Unfortunetly, they would lose another member that day. They would jump at Northern airport no more.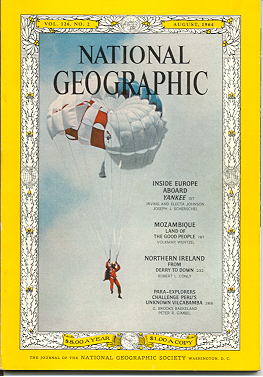 Danny Payne, who was a leader in skydiving, and headed the KaMo club, began a new club at the Richard Cobowers airport, but it didn't last. The airport no longer exists today.

I was told that Payne was on the cover of National Geographic in 67' or 68', when they did a major story on skydiving in the United States.

*UPDATE* 06/13/01 - Found the National Geographic magazine cover issue for August 1964. Danny Payne is pictured skydiving here.

The related skydiving article within (which actually has nothing to do with Mr. Payne -- he simply modeled for the cover) is entitled "By Parachute Into Peru's Lost World". The main title for this issue is simply known as "Ireland".

As for the remaining KaMo members, from what I understand, everyone just kind of went on their seperate ways. Some kept in touch, some did not. The two deaths back to back after a nine year no fatality record proved too much and as if overnight, KaMo would die right along with them.
UPDATE:
06/09/2001 ~ After publishing this page, I went on to link it to some search engines. I had searched for KaMo prior to this site's creation, and come up empty, so when I returned to these search engines this evening to check the status of this site, I was expecting to either come across nothing again, or to the very least, come across my own link.

Yahoo Google was the first one I checked (and the only thusfar), and a search for keywords "kamo, skydive" did result in a link to this site, much to my happiness. Yet, there was more... It also resulted in another link -- a link familiar to me -- One that I'd already placed on this site upon creation. I clicked on it, & low and behold, the introduction page had changed since I last visited, now featuring the word "KaMo" ~

To learn more about what became of the KaMo Club, please visit:


*Reminder that KaMo ended in 1968, after the 2 fatalities. SKYDIVEMRVS has been in the same location for last 29 years! In viewing their site, they not only focus on the sheer joy of skydiving, but in doing so, stress the safety of the sport. I am proud to share their link here.