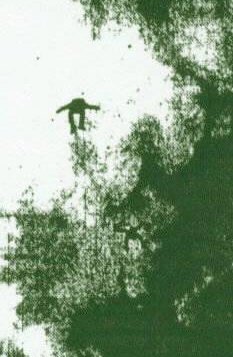 Bill said all skydivers, no matter how long they have been in the sport, still feel fear each time they climbed onto the wing strut of the plane to jump into space.

"Sure, I think all divers are a little frightened," Bill said. "If they arent, they are fools, because then they will begin to get a little careless about what they are doing."

Skydiving is not a good sport for daredevils or show-offs, a 57-year-old club member commented. The man, a cereal chemist for a company here, is also a former mountain climber. He said he was still a novice with only 19 jumps.

"Those who are in it to show off wont learn proper practices," he said. "One comparison between it and mountain climbing is the satisfaction of accomplishment you get from both. There really doesnt seem to be any common denominator for an age or occupation group. I would recommend it for older people who are in good health and for anyone who just wants the glorious feeling of going through the air."

Other club members also are examples of the variety of persons attracted to skydiving.

Mrs. Pat McFall, 27-year-old Kansas City, Kansas mail carrier, is the only woman member of the group. Since February, she has made 21 jumps. She said she hoped to become good enough to compete in the U.S.P.A. national where the U.S. Olympic team is selected.

Dr. Buzz Ashcroft, 31-year-old resident at the University of Kansas Medical Center, began skydiving three years ago. He became interested in the sport when a jumper came into the emergence room one night for treatment of a sprained ankle.

Dr. Ashcroft said he began talking with the man and later took skydiving instruction from him. The doctor said he liked the sport because it was a good weekend activity offering excitement.

Last Sunday, several Ka-Mo jumpers, their families and friends were at Northern airport. It was a typical scene that has been repeated year-around -- except that windy conditions Sunday allowed only experienced jumpers (those who have made 30 or more jumps) to dive.

Mrs. Payne said families come out to make a day of it, bringing cold drinks and picnic lunches. They sit in cars or on the grass below the ridge where the landing target, about 30 feet in diameter, is located.

Smith and Bill prepared to go up in the Cessna, to be piloted by Campbell, a skydiver himself.

Each man wore a black jump suit, black boots with air soles, helmets, goggles, and a main chute strapped on his back and an emergency chute on his chest. Payne explained the emergency chute would open within a second, or 150 feet, while the main chute requires 300 feet to open fully.

Under USPA rules, Payne explained, all skydivers must have their chutes open at 2,500 feet. This way, he said, if mans main chute does not open or becomes entangled, he has plenty of time to pull his emergency chute.

Each skydiver also carries a altimeter which he watches during a dive. At 2,800 feet he must pull the ripcord so his chute will open at 2,500 feet.

Payne also said the control tower at the Municipal Air Terminal was kept informed when skydiving was in progress and kept planes from the area.

The Cessna can take four skydivers up to jump. The planes right door is off and only the pilots seat has not been removed. The skydivers sit on the floor of the cabin. With the door off, it is easier to climb out onto the wing strut.