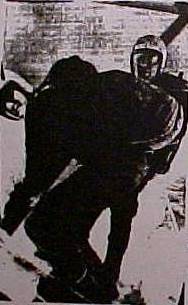 To skydive with arms and legs flung wide over the earth below, to see huge clouds in a sky that appears more blue once you are within it, to hear only the wind whistling about your face. Then, to pull the rip cord and feel the reassuring tug as the colored cloth spreads out above you like a victory flag... That is what it is like, say skydivers, to free-fall at 120 miles an hour.

"You can't explain free fall unless you do it, really," said Ed Smith, 25 years old, 133 East Forty-sixth street, an electrician who has made 120 free falls. When you are dropping at 176 feet a second there is no sensation of falling at all. The only thing you feel is the wind hitting your body like it does if you hold your hand out the window of a fast-moving car."

When skydivers like Smith and Don Bill, 25, of 4343 Campbell street, a computer programmer with 45 jumps, talk about the sport, a word they use frequently is "exciting."

"The excitement of the sport simply grows on you," Bill said. "If you ever get bored with this sport, there is no place left to go."

The two young men are members of the KA-MO Sports Jumpers of Kansas City. Included among the 25 members are a doctor, a woman mail carrier, a chemist, who is a former mountain climber, and a fireman. Theirs is the only such club in the area.

Every weekend when the weather is right (wind velocity not more than 20 miles an hour and ceiling at 2,000 feet and above) the group gathers at Northern airport, a private field with grassy runway about 12 miles west of Kansas City on U.S. 24-40.

There, as long as daylight, repacking time on parachutes, and their own stamina allow, they spend the day being lifted into the air aboard the clubs Cessna 180. The beige-colored 1954 model plane, owned by Danny Payne, 30, of 4704 East 113th street, club president, is piloted by Bill Campbell of Kansas City.

The Ka-Mo Sports Jumpers are part of what has been estimated to be one of the fastest growing sports in the U.S. Skydiving began in the U.S. in about 1956; the sport had been developing in France 20 years.

There are about 80,000 civilian parachute jumpers in the U.S. today. The United States Parachute Association has about 60,000 members, including the Ka-Mo jumpers. The U.S.P.A. holds regional meets and a national meet each year where jumpers compete on the accuracy of landing near a target and on body acrobatics while free falling through the air. Recent improvements in chutes have resulted in better landing accuracy.

Free-falling at a speed of 120 miles an hour, the human body is governed by the same basic aerodynamics as a plane. By using arms, legs and torso, many maneuvers can be accomplished and even the rate of fall can be changed.

Several Ka-Mo sports jumpers have competed at skydiving meets. Payne, a Kansas City fireman who has been skydiving nine years and has made 713 jumps, was a member of a 4-man team that took second in accuracy competition last year at the national U.S.P.A. meet. But the majority of skydivers at Northern airport, Payne said, jump as a sport rather than as practice for competition.

"No matter how many times I have dived, it never gets old," Payne said. "You are always learning something new."

Several of the experienced skydivers emphasized that the sport is not as dangerous as some persons seem to believe. But it does require caution.

"I know some divers," said Smith, "after they have made a few jumps, begin to feel that the odds are going to begin to run out and something is going to go wrong. But after you have made many jumps you begin to realize luck has nothing to do with it. Its completely in your own hands, how careful you are with your equipment, your own self-control and presence of mind, how well you follow what you have been taught."

Payne said the club had not had a fatal accident in its 9-year history.